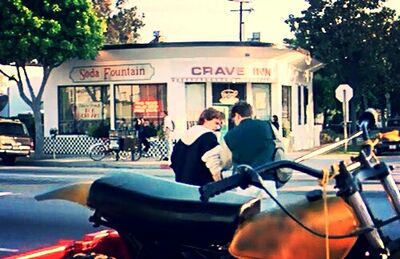 Crave Inn is the name of the diner seen in A Nightmare on Elm Street 4: The Dream Master (film) and A Nightmare on Elm Street 5: The Dream Child (film).
History
The Dream Master
Alice Johnson and Debbie Stevens worked here. It was also where Kristen Parker and Alice's brother, Rick Johnson, and his friend, Dan Jordan, hung out. It was also here that Kristen and Rick broke the news to Alice informing her of the death of Roland Kincaid and Joey Crusel.
Later on in this diner, Alice and Daniel talked about the deaths of their friends and how she feels she's responsible since she inadvertently pulled them into her dreams. In the nightmare world version of this diner, she would encounter an older version of herself (which showed one of her fears; working in that diner forever) serving pizza with the souls of his victims in the form of meatballs. And it was also here they were to meet so they can go to meet Debbie. But thanks to Freddy Krueger's interference, they were too late to save her.
The Dream Child
Alice would arrive a few hours late, much to her co-worker's chagrin because Freddy detained her in a waking dream, where she was rescued by Amanda Krueger, Freddy's mother. Shortly after, she would witness the death of Daniel when she saw him being pulled into the well of souls within Freddy.
Gallery
Trivia
The name of this diner was in homage to the franchise creator, Wes Craven.
The Crave Inn in our reality is known as Cafe Laurent in Culver City.
Community content is available under
CC-BY-SA
unless otherwise noted.